UNFORTUNATELY, THE FLEXALERT HAS BEEN DISCONTINUED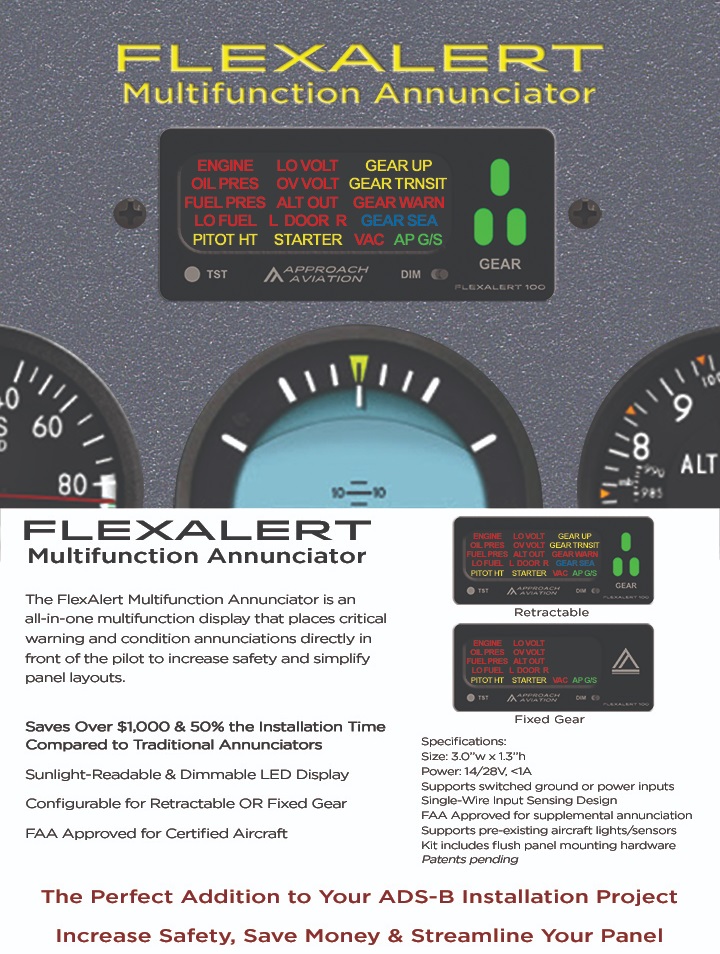 Approach Aviation announced FAA Approval and Production Shipment of the FlexAlert Multifunction Annunciator. The FlexAlert Multifunction Annunciator is a compact, all-in-one multifunction display that places critical warning and condition annunciations directly in front of the pilot to increase safety, save money and simplify panel layouts.

The sunlight-readable, dimmable LED display includes Landing Gear Status for both land and seaplanes as well as warnings for Engine, Oil Pressure, Fuel Pressure, Low Fuel, Pitot Heat, Low Voltage, Over Voltage, Alternator Failure, Doors, Starter Engaged, Vacuum Failure and Autopilot Glideslope Capture. An integral test feature is also included.

The FlexAlert Multifunction Annunciator can save over $1,000 and 50% of the installation time compared to individual or customized annunciators due to the FlexAlert patent-pending Single-Wire Sense technology. In addition, the FlexAlert photon-separator LED display technology is significantly brighter and more reliable than incandescent lamps.

The Aviation Safety Reporting System receives an average of 60 gear-up landing reports per year and one of the factors responsible for these incidents is the lack of clear visual annunciation in the field of view of the pilot, said Jeff Simon, President of Approach Aviation. The FlexAlert Multifunction Annunciator consolidates gear status, as well as many other critical alerts, directly in front of the pilot and with the clarity one should expect of modern avionics. It is a great addition when upgrading to ADS-B or as a standalone flight-safety enhancement for both retractable and fixed-gear aircraft.

At only 3.0w x 1.3h, the FlexAlert Multifunction Annunciator is compact enough to fit almost any panel. It is configurable out-of-the-box for both retractable and fixed-gear aircraft and can operate on 14V or 28V aircraft systems with no modifications. It is certified for installation in Part 23 aircraft as a minor alteration when used for supplemental purposes. Kit includes flush panel mounting bracket options for top/bottom supports as well as left/right supports.

TEMPORARILY OUT OF STOCK - PLEASE CHECK BACK SOON!